截止日期:

2018年1月20日




(延期至 2018年4月20日)

录用通知:

投稿后20-40天

论文出版:

收到最终稿后30-60天

会议日期:

2018年5月27-29日
会议接受英文和中文文章

huiyi123公众号

huiyi123微信客服
ICCEE2018演讲嘉宾信息如下: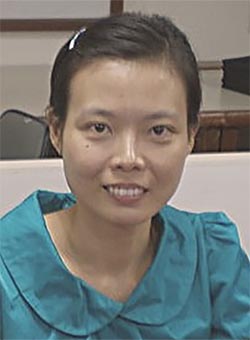 Dr. Yee Hooi Min, Associate Professor
Faculty of Civil Engineering, Universiti Teknologi MARA, Malaysia
Biography: Dr. Yee Hooi Min graduated with a doctorate degree in Structural Engineering, she is a master of Science Engineering and bachelor of Engineering (Honours) Civil Engineering from the Universiti Sains Malaysia. She was a fellow at Universiti Sains Malayisa. After graduating, she worked as senior lecturer at Faculty of Civil Engineering, Universiti Teknologi MARA, Penang Campus, Malaysia and was promoted to Associate Professor. Her research interest is Computational Mechanics, Computational Analysis of Shell and Spatial Structures, Nonlinear Analysis and Architectural Engineering. She is also certified as an 'ASEAN Engineer' and 'Professional Engineer'. She is a Professional Engineer with Practising Certificate of Board of Engineers Malaysia, the Institution of Engineers Malaysia, the ASEAN Federation of Engineering Organisations, Construction Industry Development Board Malaysia and Concrete Society of Malaysia. She is a member of evaluation panel Engineering Accreditation Council. She get ASEAN Engineer award by the AFEO Governing Board together with the designatory letters ASEAN Eng. She is awarded Universiti Teknologi MARA 'Excellent Service Award'. She is an Executive Committee of the Institution of Engineers Malaysia (Penang Branch) from 2014-16 to 2017-18. She is a Professional Engineer Interviewer. She has obtained 15 awards in Invention, Innovation and Research Design Platform and has published 73 up-to-date publications. Her other achievements include invitations as Keynote Speaker, International Invited Speaker, International Visiting Professor and Session Chairman in both international and national technical conferences and seminars worldwide which include those in Czech Republic, China, Indonesia, Thailand and Malaysia.
Topic: Form-Finding Analysis of Sustainable Tensile Fabric Shell Structures
Abstract: Nonlinear analysis method is one of the earliest methods proposed for form-finding analysis of tensile fabric structures. However due to some inherent weaknesses, the method has not been fully developed. In this study, computational strategies for form-finding analysis of tensile fabric structure using the nonlinear analysis method have been proposed. Since the method can be used for both the initial equilibrium problem and load analysis, the approach using nonlinear analysis is quite common. For the purpose of verification, form-finding of tensile fabric structures in the form of six minimal surfaces of Catenoid, Helicoid, Scherk, Enneper, Möbius strip, Costa and 11 cable reinforced tensile fabric structures have been carried out. The tensile fabric structure models have been found to converge with least square error of total warp and fill stress deviation less than 0.01. The proposed computational strategies for form-finding using nonlinear analysis have been proven to be applicable for form-finding of tensile fabric structures.
© 2016-2018第三届土木与环境工程国际会议 版权所有